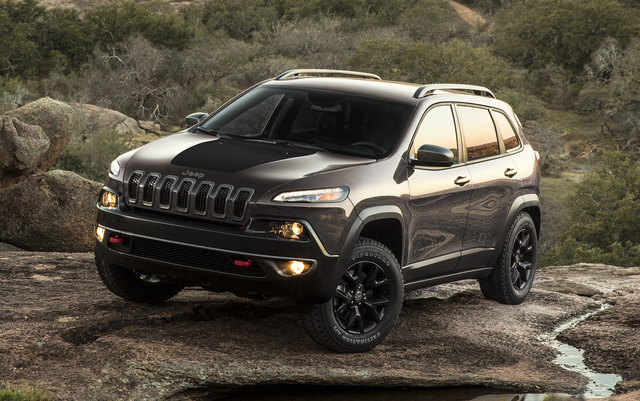 Jeeps are known for their off-road performance, but can a Jeep become your daily driver? The 2017 Jeep Cherokee has proven time and again that yes, they can. Its comfortable driving, great power, and appealing features have impressed many.
The unparalleled off-road abilities of the Cherokee paired with its comfortable drive make it one of the best crossover SUVs that you can find on the market. The Cherokee's Trailhawk trim is particularly well designed to handle all kinds of dirt, grime, and rough terrains. This amazing crossover relies on a quality suspension and a powerful V6 engine that provides exceptional performance on the road as well. Its beautiful interior and unique 8.4-touchscreen make it a perfect car for your daily needs even if you're not traversing through a mountain range daily.
The 2017 Cherokee has not seen many changes compared to its predecessor. The 2017 Cherokee now features xenon headlights in all trims except for the base Sport model. A completely new Overland trim was also introduced this year. The 2017 Jeep Cherokee for sale in Lawrence, KS near Kansas City looks very much the part being driven along the winding roads of Leawood, Overland Park, and Merriam.
View our 2017 Jeep Cherokee Inventory
Trim Levels and Options
The Cherokee is a crossover SUV that can accommodate 5 passengers. It is available in 5 different trims including the Overland, Limited, Trailhawk, Latitude, and Sport.
The standard options of the Sport trim include steel wheels measuring 17 inches, remote access, high-quality steering wheel with telescoping and tilting function, LED taillights and running lights, cruise control, height customizable front seats, reclining and foldable back seats with a 60/40 split, USB port, 6-speaker sound system, 5-inch screen user interface, Bluetooth connectivity, SD card reader, and auxiliary audio output.
The Latitude trims is packed with the additional features of a rearview camera, auto xenon headlights, fog lights, alloy wheels, roof rails, body colored handles and mirrors, LED interior lights, cloth upholstery, tinted glass, foldable front passenger seat with an additional storage compartment, steering wheel wrapped in leather, and 115-volt power outlet.
The Trailhawk trim has been specifically designed to perform like a hero when off-road. It has a 4-wheel drive system, 17-inch wheels with all-terrain tires, locking rear differential, improved ground clearance, revamped suspension for off-road performance, tow hooks, leather and cloth upholstery, unique exterior, ascent and descent control, satellite radio, 8.4-inch touch screen with a USB interface, and smartphone app integration.
The Limited, on the other hand, avoids the persona of the Trailhawk's off-road look. It is equipped with standard features that have made the 2017 Cherokee a more luxurious SUV crossover. It comes with alloy wheels measuring 18 inches, remote ignition, power side mirrors with heating, a wiper de-icer, keyless access and ignition, heated front seat and steering wheel, leather upholstery, automatic climate control, 8-way power driver seat, and a rearview mirror with auto-dimming feature.
The Overland is the highest trim level of the 2017 Jeep Cherokee. It is featured with 18-inch wheels, blind spot monitoring, rear parking sensor, cross traffic alert, unique body color, anti-noise front windows and windshield, programmable driver memory function, steering wheel with wood inserts, unique leather upholstery, 4-way power adjustable passenger seat, 9-speaker audio system, navigation system, HD radio, and an instrument panel with leather wrapping.
Some standard options of the higher trims can also be chosen for lower trims through packages or as standalone additions. There are several options and packages available based on the trim level. Additional features include a towing package, safety technology package, and dual-pane sunroof. The technology package includes options such as adaptive cruise control, auto beams, emergency brakes, lane departure warning, forward collision alert, lane departure warning, automatic wipers, unique exterior, and an automated parking system.
A 75th-anniversary special package has also been introduced that features a tangerine exterior and bronze trim.
Performance
It's surprising to see the Cherokee perform off-road when you realize that it has the same starting gear as the Chrysler 200 and the Dodge Dart. It really kicks up some dust and has no problem with difficult terrain. The 2017 Jeep Cherokee is available with a 4-cylinder engine or a 6-cylinder engine.
For buyers who wish to use the Cherokee as a daily commuter, choosing the 4-cylinder is the right track to go for. Its 2.4-litre engine can dish out 184 HP and 171 lbs/ft of torque. With this configuration, the Cherokee performs much like an economical hatchback. The 2017 Cherokee has one of the best performing 4-cylinder engines on any Jeep. It can go from 0-60 mph in 8 seconds.
The 2017 Cherokee offers a 6-cylinder engine where many of the competitors in the market are beginning to drop this composition completely. The Cherokee's V-6 engine is able to produce 271 HP and 239 lbs/ft of torque. Despite carrying a heavier engine it manages to remain quick, confident, and responsive.
All trims of the Cherokee in 2017 are equipped with an auto on/off system that cuts off the engine when idle in order to conserve fuel.
The 2017 Cherokee has a 9-speed automatic transmission on all engine compositions. The lower first gear is perfect for quick initial takeoff, mid-range gears and a trio of overdrive upper gears are better for highway mileage. The wider range of gears and speed ratios create a smoother performance even with the inline-4 cylinder engine.
Off-Roading in the 2017 Jeep Cherokee
The Cherokee can haul up to 4500 lbs. When considered with its off-road capabilities, the Cherokee can be dubbed the swiss knife of the SUV-crossover world.
There are no less than 3 different all-wheel drives available in the 2017 Cherokee. Active Drive I is specifically designed for beginners due to its wet-clutch system paired with a torque distribution from front to rear. Active Drive I is only offered on 4-cylinder versions of the Cherokee.
If you are looking for rugged performance then Active Drive II is a far suitable option. With its low crawl ratio of 56:1 with the 4-cylinder engine it is able to perform exceptionally well off the road.
All the trims of the Cherokee with Active Drive II have a state of the art terrain selection program. The program is specially designed to help the car handle challenging terrain like snow, mud, and rocks.
The Trailhawk versions have a selec-speed control that helps this hard-working crossover SUV climb hills without breaking a sweat and handle descents smoothly. In the Trailhawk model, the Cherokee gains a 1-inch suspension lift, locking rear differential, slimmer rear fasciae, tow hooks, and skid plates.
When it comes to off-road performance there are very few competitors that can stand in the same class as the 2017 Jeep Cherokee.
Interior
The Cherokee can be categorized as being in the compact crossover SUV category alongside the Ford Escape and the Honda CR-V.
The Cherokee has a very refined interior that does not waste any space or include any unnecessary elements that cause clutter. It has eliminated the 3rd row in favor of providing more comfort to rear passengers. The elegant finish in the interior inculcates a sense of luxury.
The 2017 Chevy Cherokee has about 182 inches of length with a commendable 106-inch wheelbase. It has 41.1 inches of legroom in the front, 40.3 inches of legroom in the back row and 38 inches of headroom.
The Cherokee has enough room to make it a spacious crossover but when it comes to overall length it has a narrower and longer shape than its competitors.
Utility and Function
The Cherokee has a lot of aspects that make it a great utility car. There are a dozen small storage spaces scattered throughout the car and a high-quality infotainment system that will make any long journey a breeze.
The Cherokee has been designed to have a high floor that lets the 4-wheel drive component sit beneath it, resulting in less cargo space. The 2017 Cherokee has about 59.9 cubic feet of stow area when the front passenger seat is folded down. There is 54.9 cubic feet of additional space behind the front seat. If you are in need of some extra space then 24.6-29 cubic feet of space is available behind the rear seats.
Jeeps are known for having a clean, refined, and functional interior. The Cherokee does not disappoint either; it utilizes high-quality, soft-touch material to create an aesthetically pleasing interior. Noise levels are also kept very low due to the smart design of the Cherokee in 2017. To see it up close and personal, come see the 2017 Jeep Cherokee for sale in Lawrence, KS, not too far from Lenexa and Lansing.
Safety
The standard safety features on all Cherokee models include antilock disc brakes, front, side, and rear airbags, traction control, and stability control. The Sport trim does not have a rear camera as a standard feature but it can be chosen as an option. All other trims have a rear-view camera. The infotainment system the Cherokee is equipped with has an Uconnect Access system that gives out a crash notification, theft assistance, offers remote locking, and has on-demand road assistance that is controlled through a high-quality 8.4-inch screen.
The Limited, Trailhawk, and Overland models can be equipped with additional security options such as a forward collision warning and control system, cruise control, lane departure warning, cross-traffic alert, and blind-spot monitoring.
During government run crash tests, the Cherokee was able to earn an average rating of 4 out of 5 for front impact tests and 5 out of 5 for side impacts. The IIHS awarded the Cherokee the best possible safety rating for side crash, roof strength, and moderate front impact tests. The Cherokee also earned a 'Superior' rating for the front collision mitigation system.