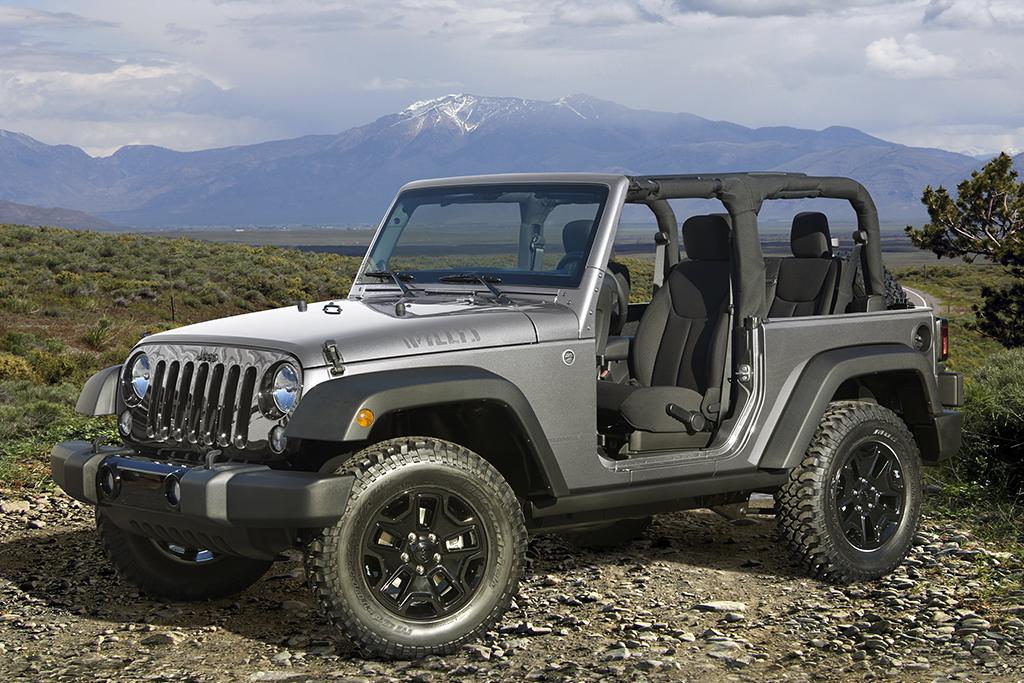 The 4-door Wrangler Unlimited is full of welcome reminders of the brand's long heritage. This historic car has been serving customers (and the military) for decades and has become one of Jeep's top-selling vehicles. It is available in 4 different trims including the rock-and-roll Rubicon model, the Sport, the Sahara, and the Sport S. Wranglers present a perfect combination of traditional design packed with modern comforts.
The Wrangler is true to its roots. It has one of the most traditional designs that you can currently find on the market. Jeeps are intended primarily to perform on rough terrain and that is where the classic design of the 2017 Wrangler shines the brightest. It is not cluttered with complex gadgets and gizmos but rather goes for a functional design intended to tackle the rough wilderness.
This does not mean that it's completely devoid of all the latest technology. Some features such as Bluetooth connectivity, smartphone support, and satellite radio have crept their way into this legendary off-road vehicle.
The 2017 Wrangler Unlimited is also currently the only 4-door convertible SUV on the market. The Wrangler has a rugged charm and a durable build designed to withstand any trouble off the road. It is one of the only Jeeps that have stayed true to its identity. Despite its older design it still manages to provide exceptional performance and leave most modern cars and SUVs biting its dust when the going gets tough.
The 2017 Wrangler has seen some tweaks to its design but by and large, it remains the same as it has for the past few years. New features added to the 2017 Wrangler Unlimited include fog lights and LED headlights. A new Sport S model has also been introduced, and a Cold Weather package is now available for the Rubicon and Sport S models.
You can view the 2016 Jeep Wrangler Unlimited for sale at Briggs Chrysler in Lawrence, near Kansas City, Gardner, and Lenexa, KS.
Trim Levels and Options
The Wrangler is available in two different body types. One is designed to accommodate 4 passengers and has 2 doors while the other version can seat 5 passengers and has 4 doors - the Unlimited edition. This review will concentrate on the 4-door Wrangler Unlimited edition.
The Unlimited Wrangler is available in 3 different trim levels called the Rubicon, Sahara, and Sport. These models are further divided into special models. A high-quality vinyl convertible roof is shipped as default but a hardtop version is also available.
The base level trim of the Wrangler doesn't have much in name of superfluous creature comforts. The Sport trim level standard features include steel wheels measuring 16 inches, full-size spare tire, tow hooks, skid plates, removable doors, manual locks and mirrors, fog lights, crank windows, durable doors made out of metal, height customizable driver seat, cloth upholstery, cruise control, steering wheel with tilting feature, back seat with tumble forward feature, and a 8-speaker sound system and CD player with auxiliary audio support. The Unlimited is shipped with a larger gas tank, foldable seats with a 60/40 split, and air-conditioning.
If you wish to have the rugged durability of the Wrangler but also desire some modern comforts then choosing the Power Convenience package will get you a lot of additional features. This package includes features such as power locks and windows, heated mirrors, security alarm, auto dimming mirrors, and keyless access. The Cold Weather package contains all the options of the Convenience group plus heated seats and remote ignition. The Sport can optionally be fitted with a leather wrapped steering wheel and alloy wheels measuring 17 inches.
The Sahara model of the Wrangler has all the features of the Convenience group as standard with the addition of alloy wheels measuring 18 inches, LED fog lights, auto LED headlights, hood insulation for less noise, additional painted body panels and accents, leather-wrapped steering wheel, and a satellite radio. The Unlimited version has grab handles and tubular side steps for passengers.
Instead of spoiling your adventure with luxurious items the Rubicon version enhances the off-road capabilities of the 2017 Wrangler. It begins with the standard features of the Sport trim and adds alloy wheels measuring 17 inches, a heavy duty improved Dana 44 front axle, special tires, a shorter 4.10 gear system, a redesigned transfer case with lower crawl ratio, automatic hood insulation, LED headlights, and front locking differentials. The Rubicon also adds air-conditioning, a steering wheel and gear knob wrapped in leather, 115-volt power outlet, and a satellite radio. The Power Convenience group discussed earlier is shipped as standard on the Rubicon Unlimited trim.
The Sport and Sahara versions also have the option of a limited slip rear differential. The Rubicon and Sport can also be chosen with half doors that come with manual locks and plastic side windows. The Sahara and Rubicon are also available with auto climate control and heated seats.
A 9-speaker sound system can also be chosen on all trims and models of the 2017 Wrangler. If you wish to add some additional modern comforts than choosing the Connectivity package will provide you a tire pressure monitor, a steering wheel wrapped in leather, a trip computer, phone connectivity through Bluetooth, Uconnect touchscreen that contains a USB port, 28 GB of storage, media player, crisp user interface, and a navigation system.
The Wrangler can also be equipped with a special 75th-anniversary package. It features unique paint, 17-inch wheels, power dome hood, and winch compatible bumpers. The Rubicon Hardrock package includes back wheels measuring 17 inches, exterior accents, power dome hood, a black leather interior, Alpine sound system, and special badges.
Performance
The Wrangler remains the market leader when it comes to off-road performance. Its rugged build, tough chassis, solid axles and powerful engine help it soar on rugged terrains. Its underside is protected with skid plates that guard its body against rock damage. The Wrangler also features some modern tricks under its hood to help you get better control of your vehicle. These features include sway-bar disconnect technology that helps you get better wheel articulation.
The Wrangler Unlimited is a high performance four-door off-road vehicle. All models of Wrangler are equipped with a 3.6-liter V6 engine. This can produce 285 HP and generate an impressive 260 lb-ft of torque.
The V-6 has been customized to handle all your off-road needs. The off-road capabilities of the Wrangler do not, however, take away from its street prowess. The Wrangler can accelerate to the max without any hiccups or vibrations.
The 5-speed automatic transmission system is a tried and tested shifter taken from Mercedes-Benz. The Wrangler Unlimited travels between different gears smoothly with its moderate acceleration ratios. A 6-speed manual transmission is also available.
Styling
The visual style of the Wrangler has remained unchanged over the years. It carries a strong heritage with it and its military roots are clearly evident in its lines.
The Wrangler is a unique vehicle that has a distinct profile and a strong military heritage. Its tough exterior and rugged build are not designed to look pretty but are rather made to last and withstand the rugged terrain. Its design screams functionality. It's all straight lines, with a seven-slot grille and a flat look that does not attempt to force beauty but instead facilitate functionality.
The interior of the Wrangler has seen the most changes. Those days are long gone when a hard plastic dashboard and drab metallic seats were the standard. The modern Wrangler is packed with comfortable seats and an exquisite interior that is lavish and cozy. The door panels and the dashboard have nice contours that add a little interest to the rugged exterior.
Comfort and Utility
The 4-door Wrangler Unlimited is about 20.6 inches longer than the 2-door version. It features additional cargo space and legroom in the rear.
The back seats are perfect for accommodating adults, with ample legroom. The seats are comfortable enough that you can easily handle a long journey in them. The Unlimited version has a huge amount of cargo space that can be increased to 71.6 cubic feet when the rear seat is folded down.
The back can be accessed through the swing-out tailgate or zipped-back window.
The removable top is one of the best features of the Wrangler. The hardtop would be particularly appealing to those who are fans of T-tops.
A few years back, the Wrangler saw some upgrades that transformed its interiors to a more comfortable and appealing look. The Wrangler's interior is now based on high-quality materials arranged logically to improve convenience for the driver. The last upgrade also concentrated on reducing noise and vibration in the vehicle. In the 2017 Wrangler you can enjoy all the military legacy of the Wrangler kitted out with modern comforts.
There is something special about the Jeep Wrangler that keeps Wrangler fans coming back for more time and time again. The 2017 Jeep Wrangler Unlimited is for sale in Lawrence, KS, near Shawnee, Merriam, and Overland Park in Kansas State.